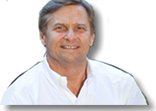 Brian Livingston Devoted to Serving The Needs of My Clients
"I will give the same level of care and concern to the sale or purchase of your home that I would use in buying or selling a home for my own family."
Brian Livingston is a Certified Residential Specialist (CRS) with the F. C. Tucker Company, Inc. in Indianapolis, Indiana.
He is among the top 5% of all REALTORS® in North America and has been successfully in residential real estate since 1987.
As part of one of the nation's largest real estate companies, Brian is a Lifetime Member of the F. C. Tucker "Presidents Club" and is also a Graduate of the REALTORS® Institute (GRI).
Brian is committed to listening carefully to your needs and will develop an action plan to help you achieve your objectives. Brian pledges the highest level of service possible while maintaining honesty and integrity. Above all else, he is committed to placing his clients goals first.
What Past Clients Have To Say About Brian
"My house was up for sale for 13 months and did not sell. My friend recommended Brian Livingston. I listed the home with Brian. He advertised, had open houses and the house sold in 3 weeks. I highly recommend Brian."
— Debra Gould
"We enjoyed working with Brian Livingston on the sale of our home. You were patient and understanding during an emotionally difficult time in our lives. It is amazing how unsettling a major move can be. Thanks for making it a lot easier."
— Wayne & Amy Lloyd
"We wish to thank you for all your help in finding a house. We appreciated your friendly and professional style. You do a fine job helping 'first-timers' with a purchase."
— Derek & Amy Cantrell
"Brian's genuine sincerity and friendliness impressed us so much that we asked Brian to be our real estate agent. We thought we knew what we wanted. We didn't. Brian patiently helped us to find the dream house we were looking for subconsciously. He is organized and efficient, and was a great help in completing our transactions. He also helped us in finding reliable people to upgrade our 15-year old house.
— Terry & Margaret Yen